In the last couple of days I had reasons to think back on the Social Media Club's session about the law surrounding Intellectual Property & Copyright on social media. When I had attended that session, I thought I knew these laws well enough, and anyway being an Indian there is a casual disregard for laws cause they are hardly ever enforced! The session had been very thought provoking and since then I have been a lot more concerned about what I am updating and whether I have given appropriate credit!
The first incident that caught my eye was, Silicon India plagiarizing a blog post from Lighthouse Insights. I am not sure why but I have never had much of a regard for Silicon India as a site, so I was not surprised when they did this. Also considering that leading Indian newspapers have been known to flick copyright material from the internet without giving any credit – sometimes they issue an apology in the next issue but often they don't – so its hardly surprising that Silicon India did this.
Too bad for Silicon India that Lighthouse Insights has an ardent following on social media and soon the news of this act spread across Twitter.
The really surprising and typical mentality was seen in Silicon India's response to the whole matter,
The second incident started out when I came across an infographic on Facebook. It seemed interesting so I clicked on it, and sadly it was so small as a FB photo and there was no link for me to view it bigger. Apparently I had to download it to view it, which I found very silly, because how do I share or tweet abt?? Anyway so I left a comment with regards to that and also about how there should be a link back to the original infographic anyway as a way of giving credit to the source!
While I started the discussion quite mildly. It ended with this comment by another fan which the page owners agreed to,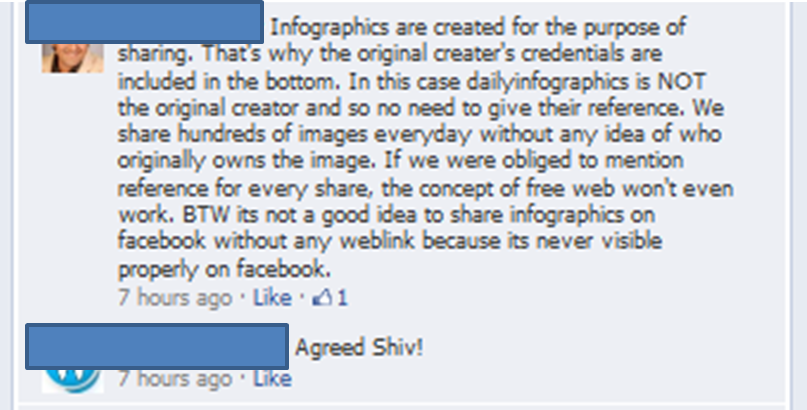 The part that bugged me was "We share hundreds of images everyday without any idea of who originally owns the image. If we were obliged to mention reference for every share, the concept of free web won't even work."
Every update that I put up on client pages or my own account I give a lot of thought whether I have given the appropriate credit. I always try and choose the original source of the picture, as a result most of the times I am able to give the credit because I am putting in the thought and effort! When people become lackadaisical and start talking about free web to make things convenient copyright violations and plagiarism is inevitable!
Giving appropriate credit in fact can be a very good thing! It builds a network that enriches each one associated with it.
For example:
RTing tweets on Twitter as opposed to COPYING someones tweet and putting as ones own!
When ever someones RTs my tweet I look at their profile and may even converse with them over the RT
Tagging on Facebook as opposed to downloading and then uploading as your own WITHOUT CREDIT
works the same way as RT! In fact tagging a person or page would show up on that profile, thus increasing the update reach!
Pingbacks to blogs as opposed to COPYING & PASTING
Most blogs showcase the link backs to the post near the comments. Thus, both the source and the blog giving credit win some!
So its not just about giving credit for legal reasons, its also about increasing the popularity of your update!
In fact if Silicon India had mentioned Lighthouse Insights blog in the article as source then Lighthouse Insights would have promoted the article and would have promoted the fact that they were mentioned in Silicon India – thus win-win for both!!
And it is also about this that when a brand is looking to become a thought leader and share good content then it is also their job to ensure that proper credit is given, because if we folks who are a sort of authority in social media usage don't do it, then who will??
Hello There..

Professionally into social media & digital marketing since 2008. Here I share my work insights and thoughts. Infrequent posting since many years, owing to my other two blogs on Travel & Spirituality. :) For my work services you can check: www.digiwhirl.com Best way to contact me is via Twitter: @priyankawriting Email: priyankawriting(@)gmail(.)com